The Story begins about 1949 two years after the big snow Blizzard in February and March 1947 when tillage operations were delayed for a couple of months drawing attention to the short time frame for doing the work and the need for something like a tractor to complete the compulsory sowing of wheat with some bread rationing due to lack of wheat flour and a couple of extracts and a piece ,about this reported in The People Newspaper in the Month of May 1947, Mr. Lemass, Minister for Industry and Commerce told Mr Keating in Questions in the Dail that he was aware that there was difficulty and delay in obtaining this country's full requirement of tractors. Every possible action had been taken with a view of securing speedier delivery as the distribution of tractors was not subject to official control, he could not assist any individual to obtain his requirements out of the supplies becoming available and inquiries in this direction should be pursued through normal trade by1949 Dick could see the way forward was the tractor and himself and Joe acquired a new Fordson tractor, one man, I know well told me Joe had the new tractor over at Ballyfad when he started school in 1949 and it was drawing great attention. They used a three furrow Cockshutt plough because the early Fordson had no hydraulic lift, and it used a rope and some kind of trip system for lifting it. They also had a single furrow plough. By February 1953 Dick and his brothers John and Joe had bought the farm in Ahullen from the relatives of Larry Darcy who died in 1948. Their brother Austin, a year older than Dick died at nine years of age and Dick would have missed a good deal of school after it, but his mother was quite good at business and he read a lot of books and most likely compensated for it that way. By 26th November 1958, their brother John had begun his first Gardening programme called the Gardening Magazine broadcast on National Radio, who was assistant Keeper of the Botanic Gardens, and who was already widely known as a writer and a lecturer as reported in the Herald Newspaper November '58
A good friend of mine told me there was a lot of waste on the farm in Ahullen, and it had to be cleaned up, they could see by mid-fifties or a little later that one could pay for a farm with three crops of wheat in 3 years (I would think good prices as a result of food scarcity caused by the war would have been a factor in this) once you had a tractor.
Advert 20-Sept 1956: For Sale Class Super Combine Harvester: as new condition; price £525, Fanning Ahullen, Inch, Co. Wexford Phone 14, and my good friend tells me Borleagh Manor the adjoining property to Ahullen would have been the first in the area to have a phone, and he is fairly sure it was before the Colonel died in 1945. He could remember Richard Greene standing in the hallway the day of the antique auction, 9-Nov '60 and I found an Advert for the Antique auction 9th Nov 1960
8th March 1961 Richard Greene, Borleagh, Inch looking for assistant gardener
Their grandfather PJ Fanning inherited their home farm where they were born after his uncle was killed from a fall from a horse after having a good few drinks or either that, the car turned over on him. PJ had been working for a newspaper in America before this which I assume was before 1912 the date of one of his letters to the Leinster Leader newspaper. The man Ted Fanning told me he remembered Dick using a bulldozer around 1953 to fill in the hole from the old WW11,1941 Bombsite opposite the Present Boland's Hardware today. Dick started off Cleaning up land and moved quickly and naturally into land reclamation,21 March 1959, Dick has an Advert in the Independent looking for a Priestman dragline driver must be experienced in land reclamation.  Tom Colgan used to drive the Priestman Lion and stayed in the lodge in Ahullen, which Dick Cullen used for a while during Larry Darcy's time. Dick had an advert July 1960 in the paper baled hay for sale, and another advert for a Massey 780 diesel combine for the sale year 1955 price £ 500 Phone Inch 22.
Advert 3 July 1962 Geith drainage plough, done one week's work, as new, £250 under list price. R. Fanning, Ahullen, Inch, Co. Wexford. Phone Inch 22
Dick took on Germans Guskin's job 22nd April 1963 in Hyde Park and Killowen, and Sissi makes a note about seeing Edith 12th July 1963. Dick buys the Poclain TC 45 Excavators from Sam Mc Cormick in Jamestown, Inchicore, Dublin 8, and he has an advert in the Irish Independent
Fordson Major BMI 374 1963
Following three tractors in 1963 Diary with County Wexford number plates: Fordson Major BMI 374 (Wexford BMI Registrations Jan 1962) Fordson Major tractor registrations.
BMI 663, a man I know well told me that he bought this Fordson Major from Dick and he always remembered the registration, this one had curtains alongside the engine back to the canvas cab called a heater CAB but he told me there was a problem with this this because you would get black from the exhaust fumes  
FORDSON Super Major BMI 58 (Wexford BMI Registrations Jan 1962)
Fordson Major ZR 9485 could be a 1950's Reg, ZR Wexford Reg began June 1952 and ended May 1961
Bedford and Ford
FORDSON Super Major BMI 58
Fordson Major ZR 9485
Bedford and Ford
Volkswagen and Triumph Herald
13-Jul-63              Harry and Billy setting up 4 wheel-drive tractor                                                  two Priestman cubs and a Wolf dragline
20-Nov-63           Dick bought new tractor £ 2,100                and traded in old one it's now costing?                 
26-Nov-63           Harry Bushe working on big County tractor
around 1965 or '66 we were doing land reclamation work in Waterford for David Kent, and I think it was after him we did reclamation work for Major Carew in Waterford.
I remember Major Carew's very well, as it was like our first camping working holiday, when Dick got the idea of driving the VW Beetle from a loading ramp in our farmyard into an old ESB lorry, he had also converted some old bread lorries into caravans for staying over on the jobs which were far away, he even bought an old grey ambulance to convert into a caravan to tow behind a tractor. When we arrived at major Carew's he took out the VW car and it was a very enjoyable stay apart from discovering the roof of the old ESB Lorry wasn't fully waterproof, when we realized some of our sleeping bags were a little wet from some water that leaked in, but overall, it was very enjoyable around the campfire in the evening and a nice wooded area nearby the field we were in, it was quite something hearing a Vixen scream for the first time. Jim Byrne was on that particular job operating the JCB excavator opening the drains and some of the other men were laying the pipes as far as I remember. I enjoyed it so well I decided when taking our young fellows on the first camping holiday to France, I decided to book the TGV Train journey as well from the Airport in Paris to NANTES, and then drove to the Campsite in St. Julien, to give them a sense of adventure, after thinking about the adventure I enjoyed going to Waterford with my two younger brothers in the old ESB lorry. This may have been around 1966 or 1967.
Dick took on the preparation of the site for the new Ferrybank 100-bedroom hotel, around the end of 1967 or early '68 which PJ Hegarty contractor constructed for the Breen family in Waterford and later Jury's hotels took it on afterwards.
13- Nov 1967 advert: Track type Poclain Excavators ideal for mucky building sites
Dick Fanning, Ahullen, Inch, Co. Wexford Phone Arklow 7122 and 7101
20 April 1968 Wanted CAT D 8 Bulldozer driver for work in Mullingar area must be fully experienced in land reclamation work, state full experience, and rates first letter. Dick Fanning Ahullen, Inch, Co. Wexford
The Westmeath Examiner 22- June 1968 Bulldozer driver wanted for two months work in Mullingar/ Kilbeggan area; must be experienced in land reclamation; apply Dick Fanning, Ahullen, Inch, Co. Wexford. phone Arklow 7122 or contact John Tighe, Castletown Geoghegan.
Johnny Tighe had been operating the Poclain Excavators up in this area a lot and Tom Colgan was there for quite a while Deepening a river for a stretch of about six miles.
Another good friend of mine remarked that the late Tom Colgan could clean your boots with the dragline, and when I thought about it, he really was right. They did quite a lot of work for a man called   Louis Vambeck in Mullingar.
Dick also had a CASE hydrostatic drive bulldozer around this time some of the men told me, which was quite useful as you could angle or tilt the blade a little like the modern CAT D5
12th September 1967 Advert: For Sale 5 Acres of onions on the field, Dick Fanning Ahullen, Inch, Co. Wexford. Phone Arklow 7122 or 7101, (we used a phone with a wind-up handle before this stage to ring the local exchange in Inch to be put through to the desired number, which would have been before '67 when the number was Inch 22.) The late Miley Bushe planted them with Paddy Kirwan's planter, which was set for 28 inches, so Miley had to drive between to split them to get 14-inch drills. John Maher told me the drills were as straight as a die, my brother Fintan remembered our uncle John organizing it for him, one of my aunts remembers it well too, I didn't think it was quite fifty years ago, in fact, if I were to go to the betting office to bet on the year, I would have chosen '69 or 1970 as the year.
Dick has an Advert in the Independent newspaper 16- March-1968 CAT D8, D7 D6 and D 4 looking for a Priestman dragline driver must be experienced in land reclamation  he seems to have acquired the excavators and Priestman draglines very soon after using the Dragline on the North Slob and in the Arklow Brook pottery, and using the dragline in Mullingar with a Poclain Excavator TC 45 Model during the early to mid-sixties and using the JCB Excavators such as a 6C and some of the men tell me a 6 D followed as replacement. And was doing a lot of land drainage and reclamation in Waterford during the sixties buying four Ford 5000 tractors from Murphy's Motors, Glenmore one of the men remembers taking delivery of three of the four new Ford 5000's with rotavators one day with three consecutive registration GMI numbers GMI — which would have been 1965and waiting on delivery of the fourth one a few weeks later, which may have been his brother Joe's. I remember  my uncle Paddy had a black FORD Corsair car  with a HMI Reg, during 1973, which he would have bought new between July 1965 and early'66. Dick began to evolve the business naturally into Earthmoving after they did the site in 1967-'68 for the now abandoned Ard Ri hotel in Waterford and then on to the construction of the Turlough Hill Hydro Electric scheme providing plenty of work for earth moving machinery, and things had already really begun to progress after the Arklow Fertilizer factory opened in 1965, and Dick had an Advert in the paper 30th June 1967 for a Priestman Tiger Crane for hire. Joe Doyle told me that one day they were coming home from a job in Waterford with Dick and he mentioned to them that he didn't know if there would be much work for them when they got back home. I suspect this would have been the late 1960's before Turlough hill started in 1968/'69 and Joe told me things just seemed to get better and better all the time after they arrived back.
13 December 1967 Dick has an Advert in the Irish Independent Dismantling early type D6 Bulldozer all parts for sale, reasonable. Dick Fanning, Ahullen, Phone Arklow 7122. It is very likely this may have been the first one he had with the cable lift blade, instead of hydraulic Rams for lifting the blade.
27 June 1968 Dicks Advert: For Sale, CAT D 7, in good working order Dick Fanning Ahullen This D7 would have had a winch attached for pulling a huge big single furrow drainage plough which could open a drain for laying 3inch clay pipes as long as the ground wasn't stony, and I would think he used it very little after this, even though the plough remained in Ahullen until I sold it for scrap in 1989. I would think this was the same one as the Geith drainage plough in the, for sale in the 3rd July '62 advert, and one of the men remembers a new CAT D6 Pulling the Geith drainage plough in Madam Morchoe's, St. Austin's, Coolgreany. During the 1960's they were using tipper trailers converted from old lorry bodies, and Harry Bushe, who was really the engineer had made up chutes for the ends of the trailers to divert the gravel when they were partly tipped up to guide the gravel into the drains. Johnny Mc Carthy would have been sent up to Jackie Regan's in the early stages with a Fordson super major and low-loader to go on up by the canal in Dublin up as far as the Nass Road to collect them, and probably the red Leyland Beaver and Octopus were most likely bought from Jackie Regan or Harris. Jackie Regan 6 Nov 1970 Irish Press
Contact Dick Fanning Ahullen Inch Phone Arklow 7122, after this,
25th September 1969 Advert Wanted Experienced Driver for Oleomat excavator to dig water mains, Mooncoin/Waterford area, Apply Richard Fanning Ahullen, Inch, Co. Wexford
Turlough Hill started around 1969, and we were working for Public Works, (the Irish contractor and Buscher (the German contractor), Shortly after starting on Turlough Hill 19th September 1969 Photo of Peter Buscher GmbH, Munster, Germany signing the contract in 1969.  with a couple of men from ESSEN Germany and photo, a joint venture with ASCON who were assisted by Hugo Flynn's Public Works supplying the Euclid R45's and Buscher had the huge CAT 992 with it's 11 cubic yard bucket. some photos of the large crushing plant in the Independent newspaper 19th May 1970 crushing stone for the embankment of the new reservoir where Paddy Kavanagh had to keep the stone pushed up to or away from it with the CAT D 6. The Canadian company Discovery mines took on Avoca Mines in 1970 and both the N.E.T. Fertilizer factory and the Avoca Mines would support each other with the NET Fertilizer factory taking 80,000 tons of Pyrites and began Pile driving on the site reserved in the middle of the factory for the Pyrite Roaster Plant, thus avoiding importing 3,000 tons of Sulphur and would export the cinders residue to a Dutch company. Irish Independent 31 Jan 1970: New CAT D 8 Bulldozer with Ripper for hire. Dick Fanning. Phone Arklow 7122
Wicklow People Jan 1970: BULLDOZERS, DIGGERS, DUMPERS
All Types for hire hourly or contract rate – Estimates Free Drainage and landscaping by Contract
Machines presently working in Balltinglass, Carnew& Bray areas. Philip Ivanoff has an advert in the same week for JCB 6C's and 3C's. Joe Doyle told me that Dick often wouldn't have something great up front meaning the tractor unit pulling the low-loader, compared to some of his opposition, but he always had something good coming behind, He gave me a few examples of this, and one, in particular, being the Austin Mastiff shifting the D8 from the Carnew road coming down through Gorey and he had arranged with Joe to lower the blade of the bulldozer down on the wheels if the Mastiff tractor unit wasn't fit to hold back the load when making the turn right coming down the main street, for the Ballycanew road. Paddy Kavanagh told me too that the Mastiff was way Too light when you added the weight of a proper CAT Parallel ripper fitted to the D8, and the Mastiff had got a slight twist in the chassis after it. I wondered why I had only seen the white Mastiff for a short period, which I think would have been after the Octopus as it was really the AEC Mandator, I could remember in the early '70's  Dick and the men took on the job of constructing the new back-road from the "Beech road" into the NET factory in 1970 to facilitate trucking in the Pyrite from Avoca and to enable the Cinders residue from the Pyrite Roaster to be trucked out to a storage area at the Roadstone jetty for shipping and the new road made it possible to avoid going through the town of Arklow with the cinders to the Roadstone jetty. Dick had what appeared to be a rather bizarre idea at first around May to June 1970 when he used this little CAT D 4 (appears to be an early to mid-1950s model)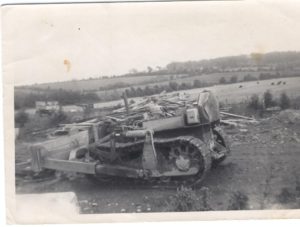 to load the tractors and trailers, and lorries.in past the Kilbride Graveyard Pyramid, where he used the CAT D 8 with its rock ripper to cut out a channel just below where they were ripping out the shale rock on a bank to drive the lorries and tractors and trailers into. They had already constructed the part at the front of the factory for the railway before this, which I hadn't been aware of until J. Maher and Hughie Mc Carthy told me. Dick used some railway irons from the front of the factory to create a ledge or shelf over the lorries and trailers and even though the CAT D4 was small, but due to the fact it was pushing the loose shale pushed out by the D 8 downhill  over the shelf  into the lorries was very fast loading, although the channel had to be cleaned out every so often from the spillages, I can remember one of the men in the small yellow single axle Dodge lorry saying to another man, you'd want arms like an elephant to steer this one, but you could see these young men around eighteen or so and in their twenties were really enjoying it, Those old lorries like the red Beaver were very slow tipping up their loads compared to the new Terex's that came in the following year or so. This would have made a very amusing piece to video with a drone, had one been available at the time. A trip over to Japan for EXPO '70 in 1970 by some of the machinery suppliers like Tracell the Agents  for the Japanese Komatsu Blackwood Hodge who supplied JCB and TEREX machines, and Sam Mc Cormick Ltd. who supplied CAT bulldozers, Loaders, scrapers and road graders other construction companies or Tyre companies. In Feb1970 Dick bought 5 acres with a gravel pit at auction from Albert Young.  and he and Sissi began construction of the new house that Caroline and I live in with our family. In 1971 Sissi bought the Kilmurry farm from Patrick Byrne, which suited well as Dick already owned the twenty acres adjoining it in Kilmichael. Dick had purchased Two CAT 627 Tandem engine motor scrapers for stripping the overburden up on Cronebane to reveal the Orebody and stripping began in March 1971 on some of the virgin ground,
in 1972 Dick bought 70 acres at Clogga, Arklow. Construction of the mine's tailings Dam began in 1972. I can remember a few heated discussions and arguments after Mr Leo Laithti the engineer from Golder Brawner put in a request for four or five scrapers and this drew quite a reaction from Dick before a compromise was reached, and when Chris Doyle mentioned to me that Leo Lahti didn't want to see the lorries coming, as they would have been too slow. Even though it was through the eyes of a fourteen-year-old it was obvious that Leo was a man who strived for as close as he could get to 100% efficiency and to achieve a high enough work rate to shift the required amount of material and compact the layers properly for a secure Dam, it was agreed to do twelve-hour shifts, seven days a week for eight or nine weeks at a time. John Maher told me they put on a show to demonstrate how much they could do by the hour, but he told me they got caught out when Leo insisted on time clocks being installed in the two scrapers. Some of the men were highly amused after a meeting when Sonny Tighe announced that he didn't do Sundays, and Dick snapped back well you needn't come in here on Monday morning if that is the case, but they were even more amused when Sonny didn't arrive in on Monday morning but came in on Tuesday morning and because help was scarce nothing much was said, and from what I can gather Sonny avoided doing Sundays. Chris told me the Guy Lorry was a Guy Warrior and as soon as he said Leo didn't want to see any lorries, I knew exactly what he meant and it also conjured up an amusing image in my mind of these warriors coming up over the horizon onto the Dam. construction. The men were working very hard and I think they really enjoyed working as a team and I think everyone respected Leo's ability and his know-how. Tom Colgan as far as I can remember had been stockpiling washed gravel from the river with the Priestman Lion dragline in a stockpile, which was used and placed in a trench about four feet wide in the centre of the dam, Clay was mostly used in the outer part of the dam and tailings when it was dried out was used as the inner layer of the dam. Leo insisted that the Duomat vibrating roller was used to compact the layers, I think he liked the scrapers from the point of view that they were unloading in thin layers and driving over it and compacting it, he also had the dumpers as far as I can remember travelling over the loads that were tipped when levelled by the bulldozer in layers also. The CAT 950, Cat 112 road grader came brand new to this job also a new Richier H17 Excavator, which was most likely traded for the newer FORD H45 after FORD took over Richier completely in 1974 from the previous 80% controlling interest they had of the company,  and Johnny Tighe became good on the road grader and ensured the haul roads were well maintained that the dumpers and scrapers could travel quickly. Hughie Mc Carthy told me Leo used to make sure the dumpers were parked in the correct positions for loading and had him timed to load each dumper in the shortest amount of time possible. It appeared to me as if it were some kind of Olympic event taking place with the different groups of machines, some loading and drawing gravel up from the river the scrapers taking clay from over at the wood and Hughie loading tailings into the Terex's and a hired in VOLVO Dumper from Clonmel, Leo must have conceded to a Ford lorry being used to draw gravel up from the river apart from the TEREX dumpers  which were hauling clay and Tailings, The clay or shale was most likely  used on the inside as far as I can remember and a three or four fleet wide trench was dug out between to place the clean gravel in  as a man by the name of Armstrong happen to let the Ford tandem axle lorry slip into the river when reversing into the digger and misjudged the roadway where the excavator had been digging at the side of while loading, the lads were telling me he had to get out of the window and stand up on one corner of the body, and fortunately he was okay. Even though Leo was demanding a very high work rate everyone had to admire the way he brought everything together and had them all working in harmony to build a bombproof Dam, Leo was well able to coordinate the different groups of machines and have them working to maximise efficiency. A couple of years ago, I was chatting to Joe about the famous incident where he tied the steering wheel of the scraper to get it to go around in a circle to see if he could get an extra ten minutes on a tea break on one of the twelve-hour days, but it didn't quite work, and Joe was telling me that Leo remarked sometime afterwards possibly a year later or so when talking to Dick that these Cat scrapers could even be seen working on their own at times.
1972 I came across this advert: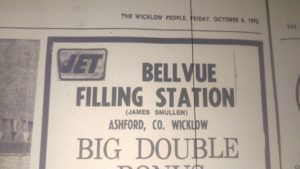 for Jimmy Smullen's New JET petrol filling station in the Wicklow 6th October '72 People, and it instantly brought back memories of Dick and the men using a large water pump with a three inch pipe pumping water from the river, it was only after having some of the men over one evening a few months after my dad Dick passed on in December'01,     including Johnny Mc Carthy who sadly passed on in May 2002 , and hearing about some of the funny incidents that happened through the years. I remembered them preparing the site and digging out the space for the oil tank really well, but it was only when Paddy Kavanagh told us Dick sent him to go and get a couple of trowels for the wall they were building, and they weren't aware there were two different types, when asked which type they wanted, and described coming in to the site the following morning and finding the wall had collapsed, and learning one can only build eight blocks high or so per day. It was only after this and talking to John Maher afterwards, that I learned the reason for the water pump was because Dick though the weight of the excavator bucket pressing down on the tank would be sufficient to hold the tank down while they were pouring in the concrete, but unfortunately as soon as they began the pour the tank started to rise, and they had to pump water straight from the river in to the tank to keep it down.  There were a couple of other amusing incidents related to this job also. There were around three CAT D8S' in the early 70's with Turlough Hill going strong up until the end of '72 and doing a lot of work for Roadstone, the Mines, etc.  because the D8s' were giving some trouble breaking the track links, and one of them gave a lot of trouble with the hydraulics, although Paddy Kavanagh told me after that Harry Bushe, actually discovered a problem with a valve afterwards, but as it happened, Dick had started buying the new Komatsu 155s' from 1973 a comparable machine to the D8, and possibly at a keen price
Around 1972 to '73 We did a job preparing a site for Tern houses up on Wicklow heights, Wicklow town, and used the Cat 627 Motor Scrapers. This was most likely before constructing the new road for Priority Drilling in Navan.
The lads tell me this 1970 Guy Lorry in the '72 Advert turned over with John Poole going in the Beech Road to Arklow, possibly with Copper ore in Dec'70,or early '71 to get enough Copper into the Roadstone jetty for the first shipment, the lads had to work hard trying to clean it up off the road and at the same time not contaminate it , and it reminded me one day during 1975 I was loading gravel into a dumper near the Whitebridge in Avoca and trying to copy the two guys with Paddy Merriman's 988's in England  and I let the CAT 930 loader lift to full height to click out automatically and steered very quickly when reversing back to go forward in the typical V-shaped loading pattern, when the machine began to overturn with the bucket fully raised causing the centre of gravity to be too high and fortunately the machine remained perfectly balanced on two wheels without going over, until I counter-steered it and instantly lowered the bucket. John did most of the CAT D 8 work on Turlough Hill and told me of a few very funny incidents up there at that time. We were doing site work for Crosspan, Dunbur, Wicklow, and in Kilpoole around 1974 Developments in Wicklow around these years also. At the end of 1972, we went over to Wales or England to see a contractor using Magirus Deutz dumpers six-wheel drive and avoiding penalties from penalty clauses for delays in finishing the contract on time, with a view of using them to climb up out of the Cronebane open pit in the Avoca Mines, which we went ahead with after it. The first CAT 930 arrived not long after the CAT 944,as the 944 spent nearly all of its time down in the tunnel and the TEREX 72-21 loader with its noisy GM Two-stroke diesel which I think was a used machine was bought around 1972 or early '73 . I used to load top soil from Young's gravel pit for the Golf links in Arklow
1974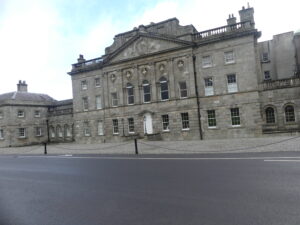 I could remember moving the flaps on the Late Michael Slazenger's plane, which I am fairly sure was parked outside the house here about July or August 1974 while we were doing the levels for the new Airstrip, we were constructing with the Engineer Jim Byrne in 1974.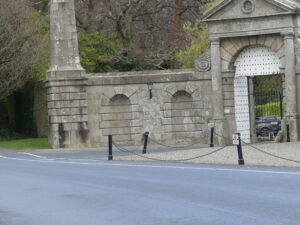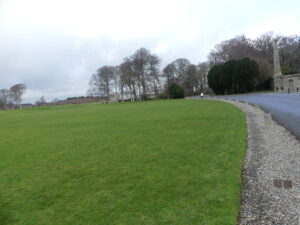 We went over to England to see Paddy Merriman's two CAT 988S' loading CAT 769 dumpers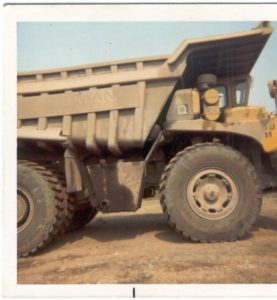 before the two CAT Scrapers were sold or traded in for the two CAT 769 Dumpers around 1975.  The CAT Dumpers and the CAT D9 were bought more so with Tara Mines in mind. Steve Youngs photo of the CAT 988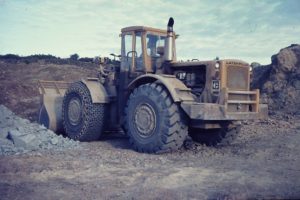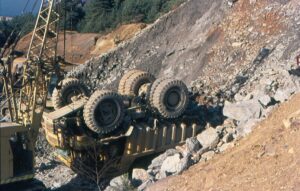 I had taken a video of this 769B on its back with a Canon super 8, which was lost, but thanks to Stephen Young, who had taken this photo. Joe Doyle told me the amusing story attached to this where Sissi or Patricia   sent a note over to Jim Redmond for Dick: Dick says tell Jim to push one load in front of the other, this was probably with the little ninety horsepower Komatsu bulldozer, and Jim sends the note back with his amusing reply :  tell Dick She can hardly push one load let alone  two
The CAT 955L track loader was bought around the 1974 or 1975 period. There were three to four CAT 920'S and 930's including the CAT 920 used on the farm, after it was used a good lot in the NET factory or mines first.
A group photo Dick & Sissi   D Saunders with the CAT 992 B in Aurora, Illinois, USA.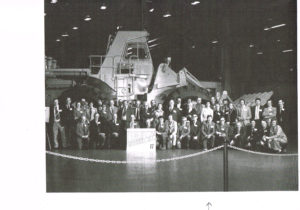 Roadstone Arklow had a Poclain HC 300 Excavator with a Deutz V 12 engine, with an operating weight of 47.5 to 53 tonnes. Possibly around 1974 or 1975, 1976
It had very high-pressure hydraulics and ran around 5,000 PSI, Poclain was one of the very first to use high pressure hydraulics when most others ran at 2500 Psi. during the 1960s and early 1970s.    The Arklow quarry had some problems with it, and they changed over to a Hitachi the next time. We had the first Cat 225 Excavator possibly around 1975, and then afterwards a CAT 215 and a CAT 235,195 Hp with an operating weight of up to 38 tonnes which was mainly used for mainly loading blasted ore rock.
There was quite a lot of land reclamation and drainage required on the Ballinakill farm, but was nearly all in ley early 1974 providing an ideal opportunity for planting a lot of wheat with my uncle Joe and neighbouring farmers doing it at the beginning. There were three FORD 5000 tractors bought around February March 1974 one on 18.4 x30 tyres and two on 16.9×34 tyres one of the Registrations YNI 223, and one of the three had no power steering and from 1975 the JCB 7B was used to open up new drains and Richie Kenny organized some of the scrub to be cut up for firewood by some men he knew, and then we could clean up the area after with the CAT D 6.The FORD 7000 and County 1164 tractors followed shortly after the three 5000 tractors; the County was quite useful for land reclamation bring in pipes on a stone fork etc. and useful and reliable for the tillage work I can remember going up one evening after school to try out the first new FORD 9600 and six furrow plough. I had been used to ploughing with a top link, and I was now ploughing with a semi mounted plough for the first time, and when the plough caught a tough spot in the field on a Sharpe rise, I didn't  mind letting the front wheels lift up about a foot the first time, but on the next run in the same place I let the tractor rear up much more, and I was caught by surprise when it suddenly went straight up  almost vertical, and I had to stop the engine, so as it wouldn't seize from lack of lubrication, and when I got out, I could see the four front lights shining straight up in the sky and the two rear lights shining directly into the ground, and had to go back to Avoca  to get my dad Dick, who attached a chain to the front and pulled it down again around 9:30 or 10:pm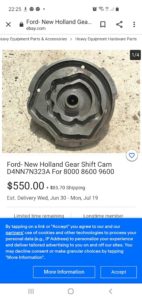 The FORD 9600 had two chrome gear levers, one low and high with a park position, and another taller one with four forward speeds and reverse when pulled back fully, and up to fourth when pushed fully forward, which looked well. But there was a bit of a design flaw , and when one looks at the Cam gear shifter selector track :, and some of the indents  or grooves , you can see why the gear shift  could be a bit sticky or bumpy, and you had to be careful just to rock the gear lever a bit  to get it to move to another gear, if you lost patience with it  or put to many different drivers on the tractor,  one could snap the end of the selector Fork , after it happened a second time Harry Bushe explained it to me and instead of having to split the tractor a second time he drilled the selector fork and used a thread tap, and cut the head off a 7/16 bolt and was able to fit the steel roller on it, and it worked.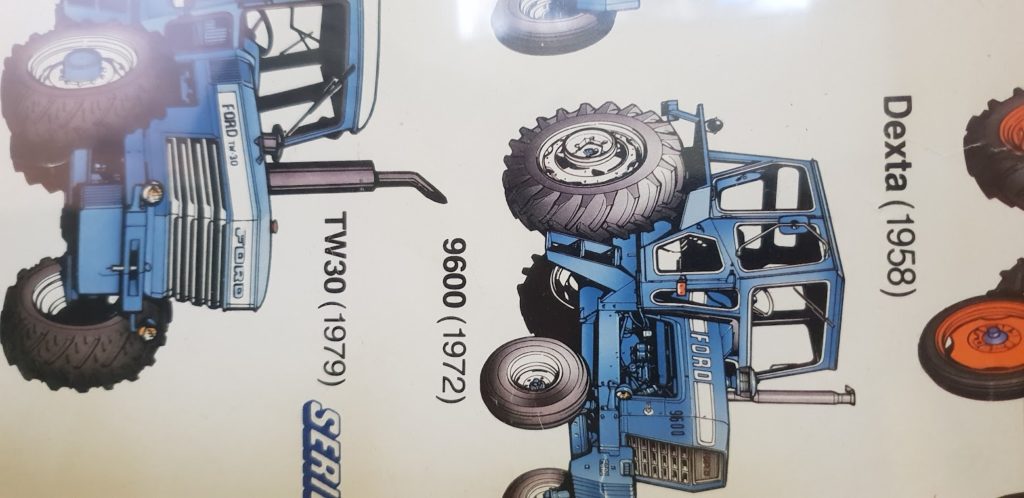 A photo of four Ford 6600's and 7600's with MF corn drills
Five FAHR 1300 three 1976, and the other two 1979/1980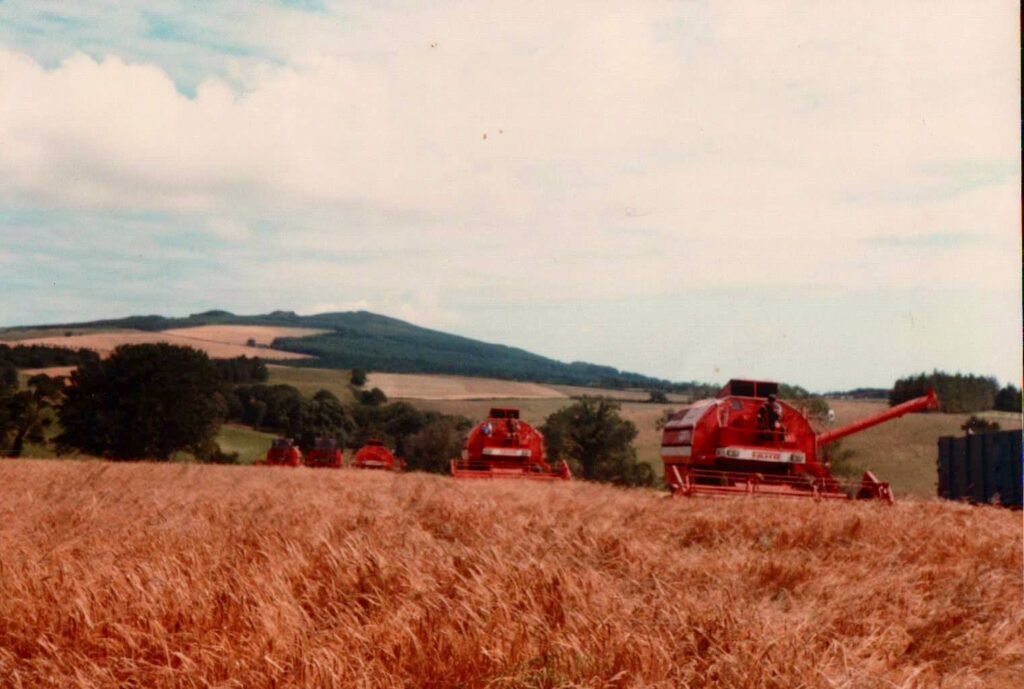 Tom Kinsella with his 30 foot CLAAS unloading our oilseed rape July 2012 into the NH 6030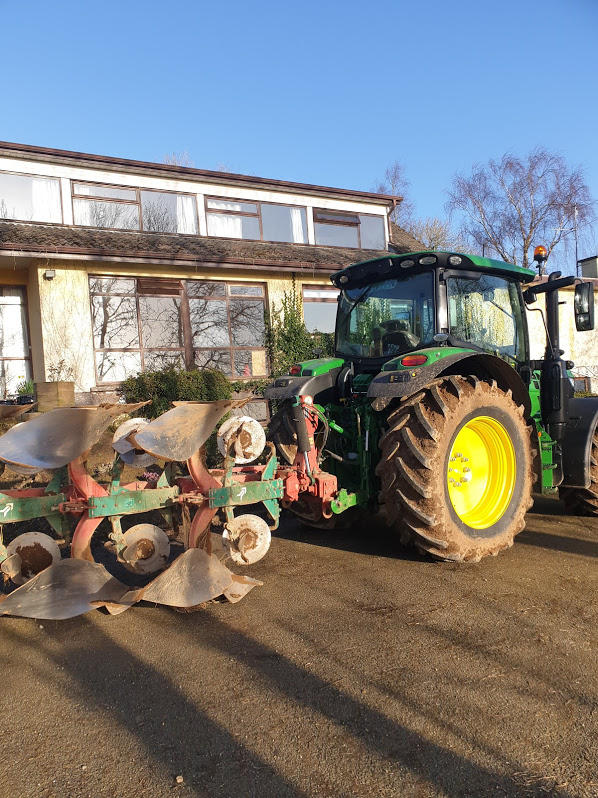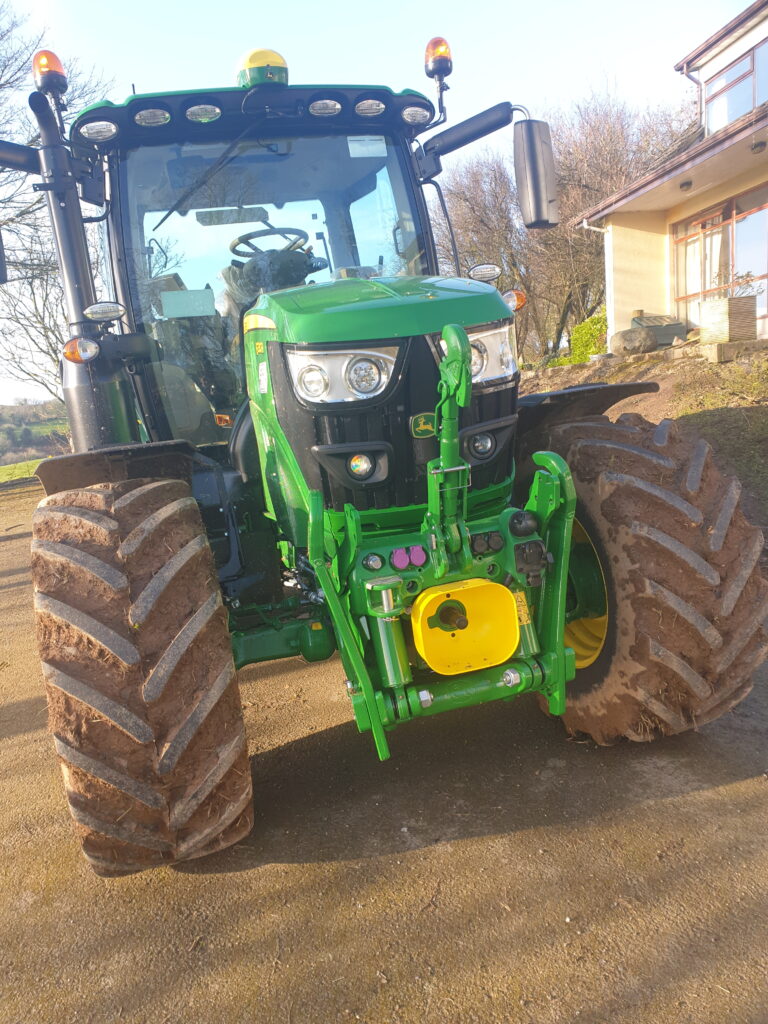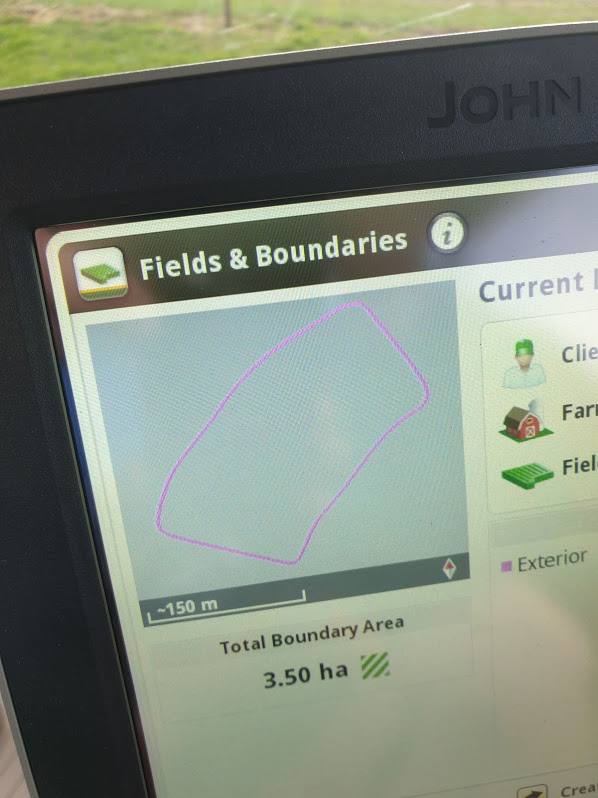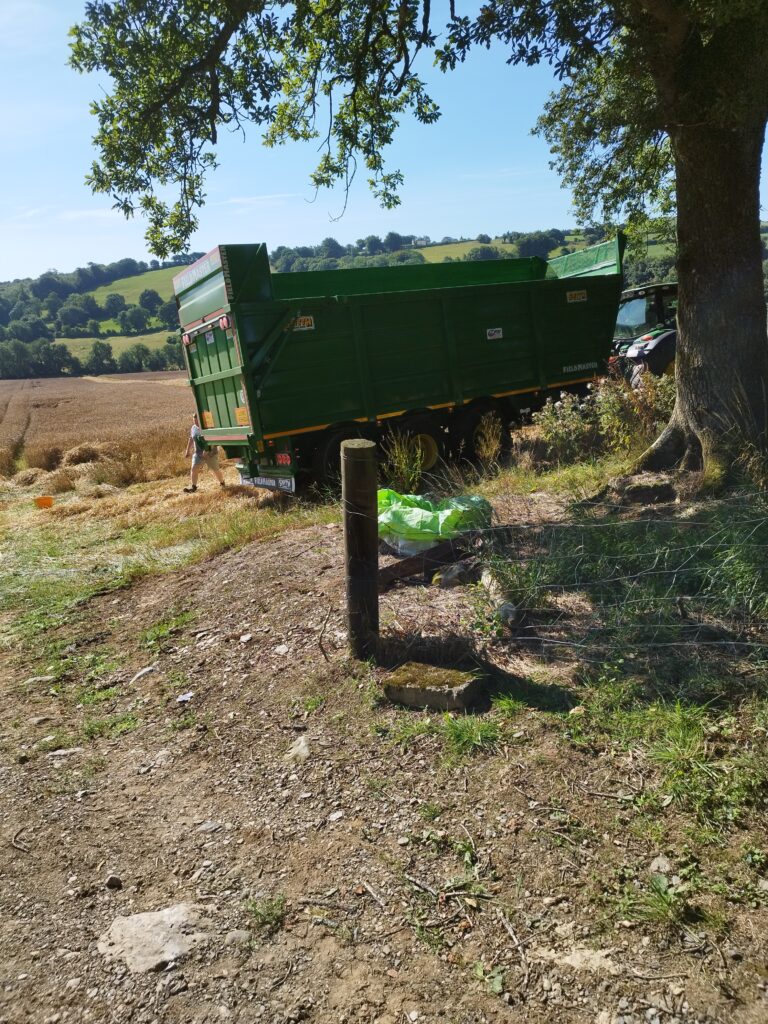 David Kinsella with CLAAS on tracks 2022 for a couple of years doing our wheat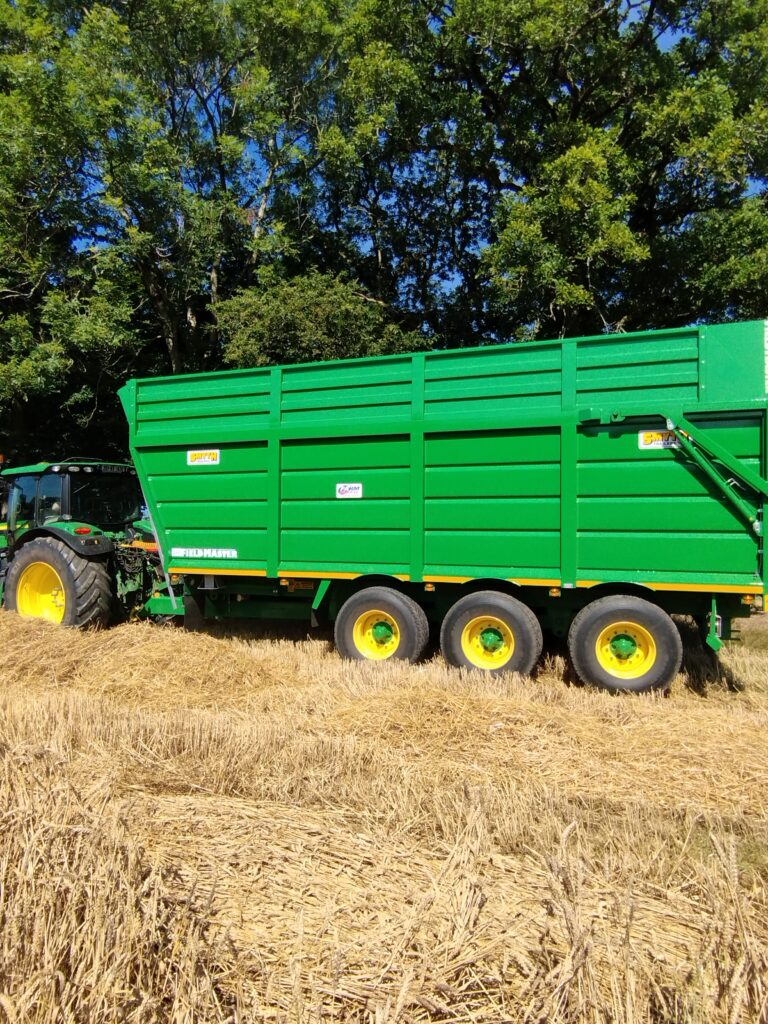 Tri-Axle