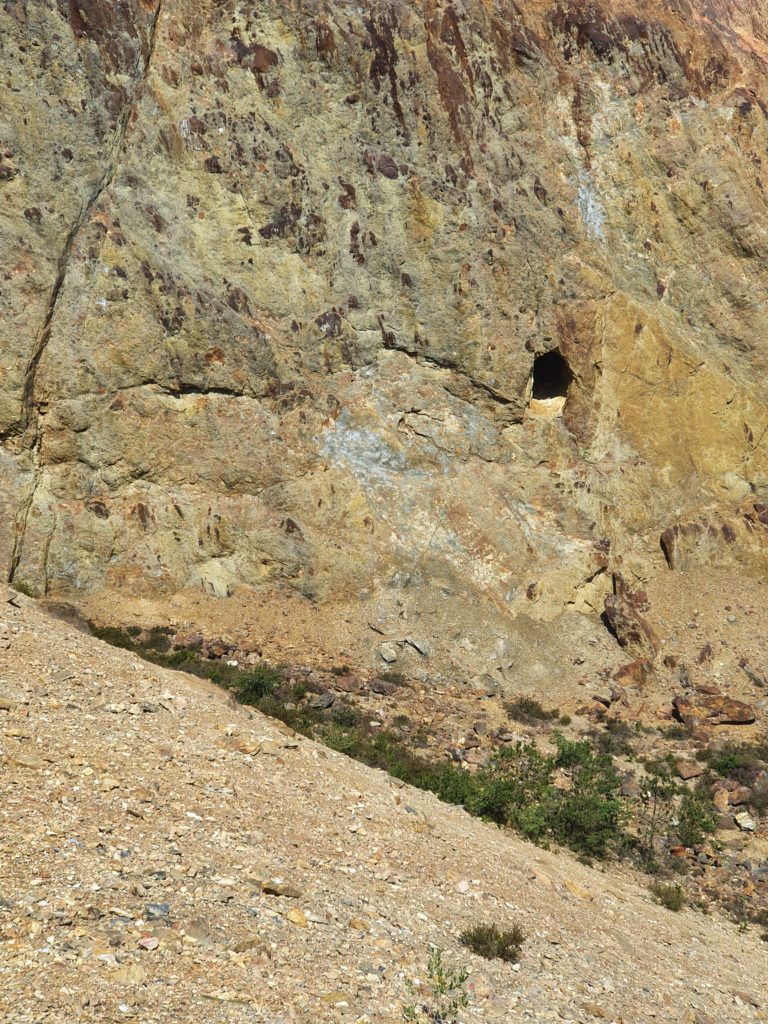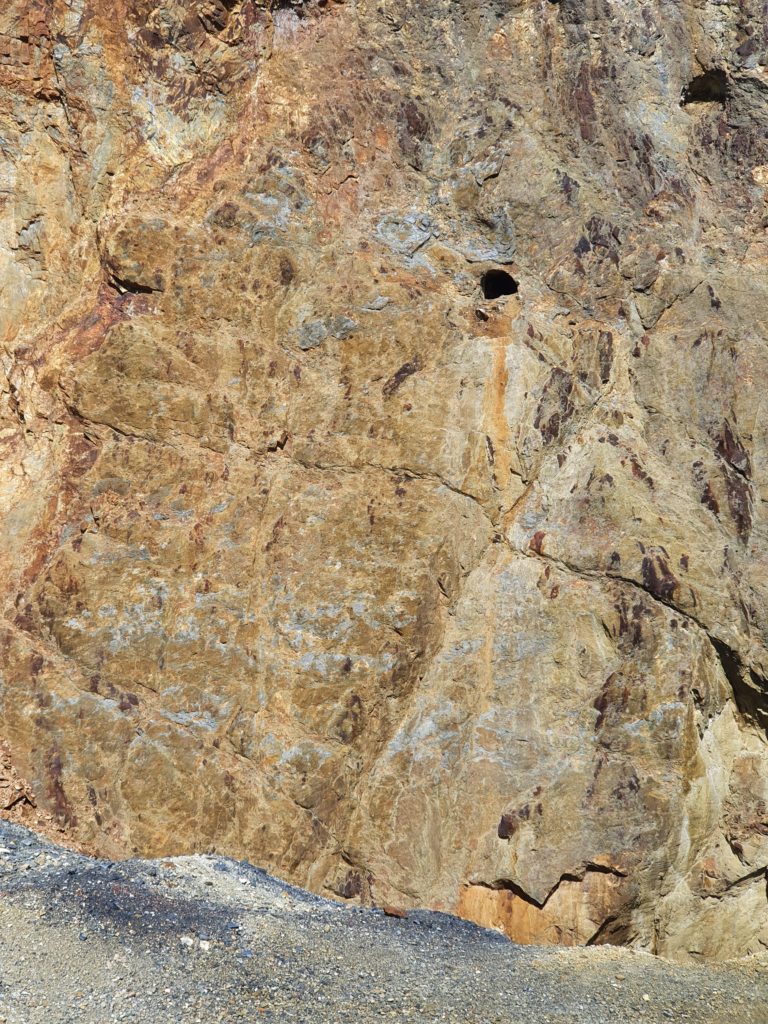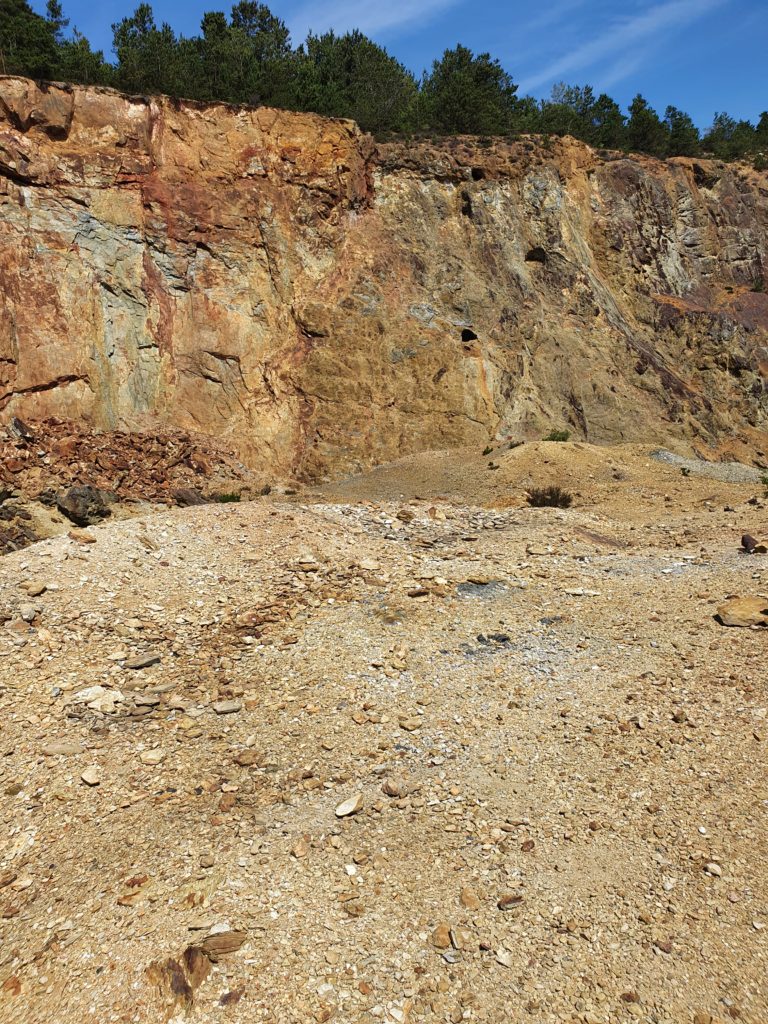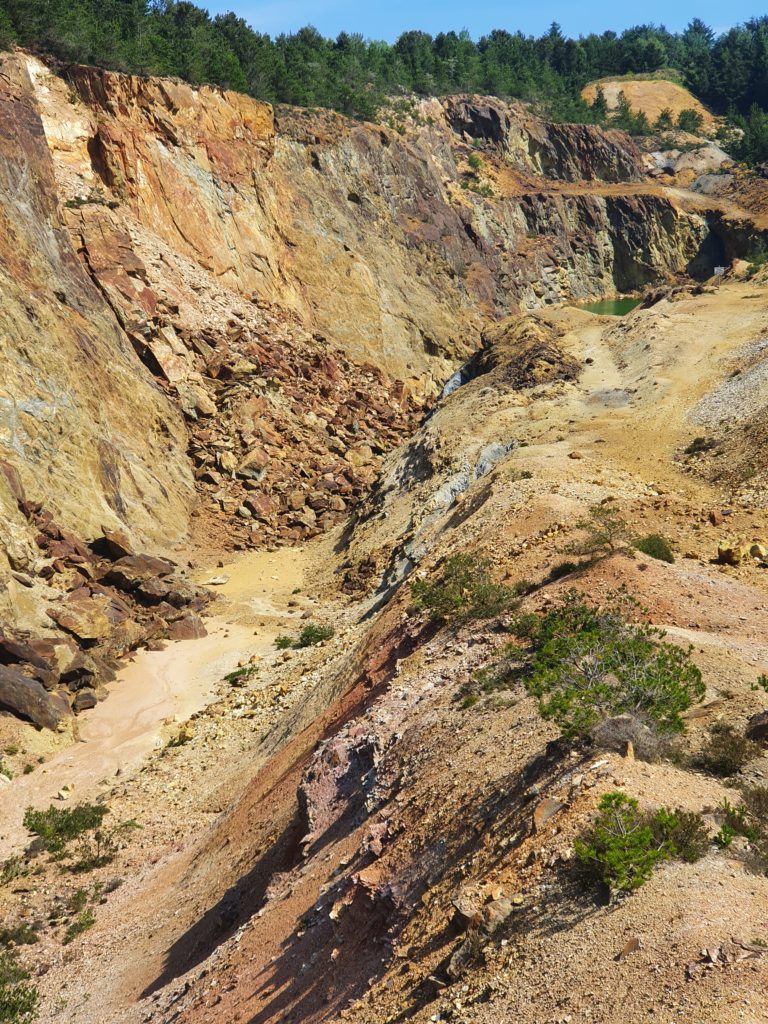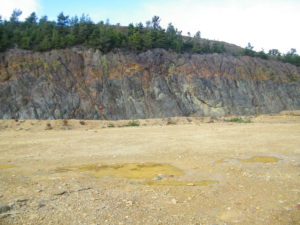 One can see the two different colours on the Rock Face Where the Blue Orebody Lay against it. The Peregrine falcons and some other birds of prey  like to take advantage of the high cliff face  , and the William's Engine house chimneys 
The Avoca Mines
We are very fortunate that Jim Platt the Chief Geologist at Avoca Mines in 1973 had taken time to document the previous history of the mine in the Mining Ireland Journal leading up to and including the St Patrick's Mine period from 1958 to 1962 operated by the Mogul Mining Corporation of Canada until it closed in 1962.
   I have come across this piece since:    The Irish Independent Tuesday 9-September 1958
Arklow
Mineral Concentrate to be sent to continent
With the mines in full production early next month, export will begin to the continent of Iron and copper concentrates from Arklow. It is not known at present what ships will be taking these cargoes abroad. Meanwhile work on modernising and improving the port of Arklow has finished and vessels of between 700 and 800 tons can be got in at all stages of the tide. On the Port's North, facilities have been installed for loading vessels with ore concentrates at the rate of about 200 tons hourly.
Early 1969 the point where Discovery Mines Ltd. Expressed an interest in operating the mine as its Gold mine in North West territories, Canada was exhausted, and Mr Barry McKeon told me RJ Kilgour was General Manager there too, and that he himself and Mr Tom Shaw who was Personnel manager in Avoca mines during the 1970s had also worked in the Rayrock Uranium mine in NWT. Canada, which I think was before the Gold mine, operated by Discovery mines, whose President was Jerry Byrne.  RJ. Kilgour General manager certainly didn't exaggerate in March 1970 when he said they had  operated a very isolated mine in NWT Canada for twenty years, as Barry Mc Keon showed me some really good footage of film with the Discovery President Mr. Jerry Byrne arriving in to the mine on a plane with skis, and he also showed me another piece with the plane  preparing to take off and told me to watch out for the plane wagging its tail before take-off to break any ice free, and sure enough I could see the plane wagging the tail fin.
I was fortunate too that the late Maisie Caswell had kept a photo of her husband Jack (whom she met when she was in in Canada) with Robert Kilgour and Dave Crombie standing at the entrance to the mine tunnel in the Wicklow People14th March 1970, and I was able pick up more of the mines story from February March 1970 editions of the Wicklow people. I could see from The Wicklow People dated 21 February 1970 There was a Fitters dispute following the dismissing of three fitters and one could see that there were 230 employees at that time. I was quite amused when I came across the two circulars from the personnel officer with some good psychology and the response from the union spokesman.
The second Circular issued on Monday Stated: The time for conscience examining is long overdue, so let's take a glimpse at the present situation.
"John F. Kennedy said : "Let us never fear to negotiate; nor let us negotiate out of Fear". " The same can be said about dealing. Let us never fear to deal, nor let us deal out of fear. If we are going to live, we have to deal. "No doubt a deal should be based on the assumption that there will be mutual benefit. At present a Canadian mining company has come here with a deal on the assumption that there will be mutual befit. One thing that there is no doubt about, and that is, that right now there is immediate benefit for the 230 Irish employees here and certainly more benefit for the people and area in general.The thing that there is no doubt is, will there ever be any benefit for the other half of the deal, the Canadian shareholders who are putting up money". "At the moment, there is an obvious attempt to sabotage the efforts being made on the part of everyone concerned to make a success of this deal. It is very important for us to dig in to this and try and discover who is behind it and who and what organization is being used as a front. Obviously, it is the fitters who are being used here, and the organization of course is the A.EF. Union". The circular continues: We have offered the fitters a very respectable contract and what happens? The local branch secretary told us that the contract has to go to Belfast for sanctioning before the men in the Republic who are involved will be allowed to vote on it We are all for co-operation. Then on the 7th March 1970 edition of the Wicklow People One can easily see after Robert Kilgour's very interesting speech at the Arklow Chamber of commerce dinner, and politicians from all the different parties along with George O'Connor Manager of Roadstone Arklow, attended the dinner and everyone was we putting their shoulder to the wheel with a very optimistic outlook for the Avoca and Arklow economy.
Avoca mining prospects 28 Feb 1970
In a very interesting speech at the annual Wicklow and District Chamber of commerce dinner Mr R.J. Kilgour, General Manager of Avoca mines Ltd., outlined plans for mining 2,000 tons of ore per day, from the Avoca mines in 1971, which we expect will yield 5,000 tons of copper. In addition, we hope to produce 80,000 tons of Pyrite for sale to N.E.T. The sale of this mineral locally was an important factor in our decision to enter this venture, for we believe Avoca is the lowest-Grade underground copper mine in the world. About 85% of our production will be exported, improving we hope, Irelands Balance of Trade in 1971 by £2 million the other 15% which is the Pyrite will save importing Sulphur worth about £400,000 probably. Mr Kilgour stated that his company came to Ireland to venture in to re-opening the mine at Avoca. They were encouraged to do so by the favourable legislation in Ireland for mining and because of the stable political atmosphere there. To some of them it was a return home. Their Chairman's Great Grandfather was a Wicklow man who went to Canada about 1850, since then, The Byrne family had been playing a prominent part in Canadian mining and Jerry Byrne visited Wicklow regularly to see their progress. The Speaker went on: Like all ventures the progress is mixed, you will know, from the papers, that our road is not entirely smooth. However, we came to Ireland knowing some of the probable difficulties. We are determined to achieve a successful mine which will have a long life and which will help to bring an added measure of prosperity to Wicklow County and Ireland.
"Fairly Optimistic"
At present, we have 250people employed and expect that this will rise to 300 or more in 1971. 215 of our employees are Irishmen and women. The others are Swedish and Canadian. The Swedes are employees of the largest contractor in Europe and are experienced miners who will drive the tunnels necessary for mining. they will be leaving when the job is done in eighteen months or so. The Canadians are all former employees at our last mine in Canada and are nearly all supervisors. Judging by our experience with US Companies entering Canada some Canadians will settle here permanently becoming if acceptable Irish citizens. Most will go to mines elsewhere, we expect in eight to ten years that Avoca will be entirely Irish, and will be glad if that occurs sooner. You will have noted the use of the word Venture several times during this talk. It is accurate because mining is always just that. Recently I listed some of the hazards to a visitor who finally commented:" It's a gambly business" It is just that. He was correct.  However, if copper prices stay above £450 per ton, we are fairly optimistic about having a successful mine. Time will tell. In closing I would like to say on behalf of Avoca and the foreign employees there that we sincerely appreciate the kindly welcome given us by Ireland in return we hope to be good citizens while we are here and to establish a mine that will be a credit to Ireland.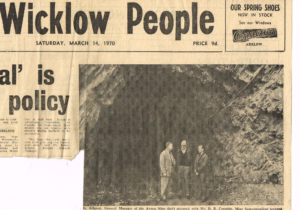 RJ Kilgour, Dave Crombie and Jack Caswell 14March 1970
Wicklow People 14 March 1970
Square Deal is Avoca mines Policy
Arising from the recent dispute by fitters at the Avoca Mines, the management in a statement, said negotiations for a union agreement with theA.E.U.F. were scheduled for an early date, whenever convenient to the union's executive personnel. The statement continued: Discovery mines Ltd. Avoca's parent successfully operated a very isolated mine in Canada for twenty years under the policy a square deal all round. That is also Avoca policy in Ireland because it paid off so well in Canada. We recognize that only a close partnership between labour and money can make this venture successful and consequently we are pro-union. Such partnership has already been established with the I.T And G.W.U and we are confident that it will come in time with the A.E.F.U.Without being argumentative, we believe that money must be at least an equal partner, because either labour or money can shut down the operation but only money can open it up and keep it alive. Nevertheless, we unhesitatingly recognize the importance of labour, and will not take any action affecting labour without ample and early consultation with union officials, except in dire emergency. We hope that our venture will provide at least 330 steady jobs for twenty years, and enable all employed here to combine a happy life and good standard of living.
Return to Ireland
Mr James Rynne, from Castlepollard, Co. Westmeath, has returned to Ireland after mining for twelve years in Africa, United States and Canada, to join Avoca mines Ltd. as shift boss. Avoca is advertising Vigoursly in Canada for experienced Irish miners who are familiar with modern mining methods to be instructors.
We hope they will marry nice Irish girls and live happily ever after said Mr Robert Kilgour Avoca's General Manager.
This was the year of the famous Bank strike in Ireland ,which lasted about six months, and Barry Mc Keon gave me a very good account of an incident during that period where he described how Bob Kilgour GM of Avoca mines, himself and another man went to a bank on St Stephens Green, Dublin to get a couple of hundred thousand in cash, but before they went in Bob took them to a supermarket to get some shopping bags, and Barry said to him isn't it a bit risky and Bob replied, People will just think we are walking with big bags of groceries instead of big bags of cash down the street back to the car, probably the equivalent of a couple a million or so today, even though I never met Kilgour, I do remember his old cars well, and I often think of what the late Alan Thomas told me about Bob Kilgour handing him the keys of "Old Blue" , the blue Triumph 2000 when he retired, and then saying: " in fact you won't need the keys to start her, you just put the two wires together underneath the steering Column "to start her, he wasn't one to splash out big on cars , or waste money on them. He also related a couple of other incidents which happened in the underground tunnel , which along with this were almost like scenes from a Harrison Ford movie.
AVOCA Mines Feature Wicklow People 3rd August 1973
Mining in AVOCA
A GREAT AND HISTORIC TRADITION
This Article is reprinted from the journal Mining Ireland by Mr James W Platt, Chief Geologist, Avoca Mines
Far from a Gold Mine
Gold is still being mined at a Avoca but this does not make Avoca Mines Limited a "Gold mine" by any means, it is estimated that about that about five ounces of gold are mined at Avoca daily with a value of £200, this bonanza is only incidental to the main operation .For Avoca Mines Ltd. is basically in the business of mining for copper, and since production started in January 1971 their first year of mining they have lost money on the operation most in the time in 1971,their first year of mining. Avoca Mines Ltd. recorded net losses if £170,000, while this loss figure was cut to 57,000 in 1972 these figures stand out in stark contrast to the popularly held belief that huge profits are to be made from mining, that  may be the case with some mining operations, but it is certainly not true of Avoca. The reason that Avoca Mines Limited will find it difficult to make a Net profit is the fact that Avoca has the lowest grade underground copper in the world. In simple terms this means that Avoca produces a very small return of copper for every ton of ore rock mined, the figure is less than one percent and this means that the cost of producing each ton of copper concentrates is relatively high as compared with other mining operations. It can be seen then that the only way that Avoca Mines Limited can hope to make a profit is if the price of copper is high on the world market and remains that way. In 1971 the price of copper was low and Avoca Mines recorded a substantial loss of £170,000 but in 1972 the price of copper rose to £428 per ton, which reduced the net loss to £57,000.
Price Varies
Of course Avoca is delighted with the high price of copper, because it will provide them, not with huge profits, but with the necessary finance to continue development of the mines. But then the price of copper is a very variable commodity its present high price is due to unsettled political conditions in Chile, the third largest producer in the world. There is no denying that large deposits of copper exist at Avoca and Avoca Mines Ltd. estimate that, given favourable" price conditions" mining can go on there for at least twenty years.
General Manager Mr. Robert Kilgour said: "We are not quitters and if there is a hope in hell of making any profit we  will keep going this must be very reassuring news for the people employed at the mines, considering that the mines had a very uncertain existence in the past.
During  last year they exported £3,400,000 worth of copper concentrate to Spain and Sweden, this looks a sizeable turnover but when smelting and freight charges and mining and milling costs are deducted, they were left with an operating profit of £564,000, out of this figure of £564,00n interest on debts had to be paid, depreciation of plant and equipment allowed for and a sum for amortization return on original investment and this left them with a net loss of £57,000, from this it can be seen that the 5,000 Irish American and Canadian investors have not received a dividend on their investment to date The investors put up £1,000,000 to get the mine started and a further £1,750,00was provided  by the Irish and Canadian banks Why, then was the money speculated in Avoca Mines?  Like many another primary industry, mining is a gamble and people invest in the hope of making a profit.
No Government money
it must be stated that Avoca Mines Limited did not receive money from the Irish Government to start this operation, their only concession being that they could pay for the lease £650,000 out of future profits if there are any, in addition if profits are made Royalties will be payable to the Irish Government the present mining Lease is on 650 acres with a prospecting lease for a further 30 square miles.
Much research involved
The First Phase of Avoca exploration involved the sifting and interpretation of centuries of reports and papers in the mining area and a rationalisation of the mass of facts which emerged. The experiences of 1958-1962 taught that it was imperative to have full understanding of the range and nature of old men's workings before any modern work involving them was feasible . As a point of policy in 1969, Avoca Mines Limited determined that no work would be carried out closer than 50ft.to old workings.
Government Interest 1945
Following the report by Professor W R Jones who drew the attention of the Irish Government to the huge tonnage of low grade possibilities of mining in the Avoca Belt. Following this report Mianrai Teoranta was setup to study the large tonnage ore possibilities at Avoca this Government body for expedient reasons, chose to explore West Avoca in preference to East Avoca. To this end, the old Ballygahan Shaft was cleaned out, re timbered and sunk further to a level around 300 feet below the lowest level of the nineteenth century workings (670 feet below sea level).  The 300ft. tunnel parallel to the assumed ore body and from this evaluation via diamond drilling was carried out. The results confirmed the ideas of Professor Jones, and a tonnage and grade was estimated as the West Avoca ore reserve. This tonnage was internationally publicised in 1955 and the Mogul Mining Corporation of Canada took out an Option to develop the ore bodies and the property as a 3,000/4,000 tons per day proposition. Existing surface plant was erected at this time. Production lasted from 1958 t0 1962 The Mogul mining company corporation elected to mine the sub-surface residue of ore left around the nineteenth century workings, I noticed Reference to "St Patrick's Mines drove a new level The 850 Level ("Wicklow Heritage".)  Rather than the block of virgin ground proven by Mianrai Teoranta. Closure was prompted by excessive dilution resulting from this, coupled with depressed copper prices. Financial difficulties saw the property placed in Receivership by the Irish Government and subsequently held open on a care and maintenance basis. A Government sponsored economic study recommended that further exploration work be undertaken
And proposals to advance this work were invited from interested companies.
NEW INTEREST
In 1966 a proposal was accepted from consortium companies to which an option to acquire the mining Lease and surface installations was granted, in return for a commitment to carry out adequate underground exploration. During a two year period to March, 1969 approximately £400,000 was expended on a programme of exploration, metallurgical tests and profitability studies. This Programme proved sufficient ore to support a medium sized mining operation.
Early in 1969 Discovery Mines Limited expressed interest in operating the Avoca venture as its North West Territories gold mine in Canada was then closing due to exhaustion of ore. Agreements were concluded between the Consortium and Discovery which called for the latter to raise the necessary additional pre-production finances and to manage the proposed operation in return for a major interest in Avoca Ireland.
On March 16 1969 the government option was exercised thus paving the way for production planning. Underground development and mining preparation began late in 1969, production commenced in January 1971, a 2,000 t.p.d., rising late in 1971 to3, 000 tons per day
Extensive overhaul
The Mill was constructed for the 1958-1962 production period, and the years of closure were not kind to it. Extensive overhaul and redesign, in 1969-1970was carried out by the Canadian consultants  Wright engineers of Vancouver. Production in the event began two months ahead of schedule in November1970.
The Spectre of low copper prices continued to dog the operation between 1969 and 1971, prices for the metal fell from £750to £390 per ton, a body blow where low grade ore is concerned. The West Avoca production was intended to supply the exploration finance for a major development and production programme at East Avoca. The Avoca Belt has vast resource potential which demands realisa
Current Exploration 1973 from the Mining Journal
Little absolute risk capital is available for exploration work in view of the slim margin of excess of metal market prices over production costs. Avoca Mines main effort goes into consolidating the efficiency of the West Avoca operation to trim costs against a possible revival in the price of copper.
Speculation has featured strongly in the geological effort, and mine exploration has been limited by existing access. Diamond drilling at West Avoca has served the prime function of closely defining the ore geology, in order that mining may be to optimum grades. At this stage the search for parallel ore structures to the known orebodies under close definition, is the secondary consideration. Such a search does go on however.
The first phase of Avoca exploration involved the sifting and interpretation of centuries of reports and papers in the mining area and a rationalisation of the mass of facts, which emerged. The experiences of 1958-1962 taught that it was imperative to have a full understanding of the range and nature of old men's workings before any modern work involving them was feasible. As a point of policy in 1969 Avoca Mines Limited determined that no work would be carried out closer than 50′ to old workings. The interpretation of historic data led to the evaluation of the Cronebane weathered orebody and the decision to lay out an open pit to mine it was taken after a limited amount of confirmatory exploration. From the Nucleus of this important open pit, the exploration of East Avoca is radiating.  Reconnaissance prospecting over leases 1545 and 1546 is being carried out to suit government requirements.
Geochemical soil and stream sediment sampling is employed to outline target areas for eventual major follow-up work.
The West Avoca Mine
The Geometry and copper grade of the West Avoca orebodies was outlined and defined by Diamond drilling underground.
The plan view of the important ore bodies resembles that of the U shaped cross section- a horizon of banded sulphides (type B) surrounded a core of sericite schist, and wrapped round itself by a horizon of siliceous ore (type A). The northern, or underlying limb is extended in a westerly direction much further than the overlying.
Ore types A and B are anachronistically called South and Pond Lodes at Avoca harking back to old men's mining parlance. (The South Lode was the most southerly of the West Avoca orebodies, while the pond Lode was discovered outcropping during the 19th century excavation of a stream engine reservoir pond). The terms are traditional, and are still in use even in application to East Avoca. A better understanding derives from blocking the orebodies out for mining purposes. With such low copper grades, high production tonnages are essential to reduce costs and realise copper for marketing. Mining methods at West Avoca are required to provide this rapid tonnage efficiently. The design must be for a small number of large underground working places, and a fast means of ore withdrawal and delivery to the concentrator. Mining methods are developed from geological considerations, the most important of which the size of the orebody and the competence of the rocks which enclose it. Support of ground is the dominant consideration in any mining operation. The safety of personnel is dependent on a sound analysis of ground.
The U shaped West Avoca composite orebody was considered in terms of its opposing limbs.
South or overlying limb. The strata which overlies this limb (hanging wall strata) are tough quartz schists with good standing characteristics. The rocks which underlie it (footwall strata) are weak, incompetent sericite schists.
(b) North or underlying limb. The opposite to the South limb, applies, with a weak hanging wall and a tough footwall.
The conclusion was that the South limb was fully amenable to large scale mining in which large areas in which large areas of hanging wall can be opened without fear of collapse, and a consequent lowering of grade.
The North limb was amenable to a mining method in which only limited areas of hanging wall were opened at any time. This would also mean that the maximum width of workings required limitation. Modern ideas on rock mechanics were employed to reach the solution.
Conventionally sea level, sea level at Avoca Mines is termed the 1000 level. The lowest operating level  that driven for exploration by Mianrai Teoranta is 670 feet below sea level and is hence the 1670 level. The deepest old men's workings in south Lode were determined by Diamond drilling to reach irregularly between 1300 and 1400 levels. In the Pond Lode, they reach 1120 level. There were hence 2 potential mining blocks above 1670 level for exploration. These were blocked out as tabular units for ease of mining in 1969, using cut off grades of .65% copper. The Cut-off grades were based on existing and possible copper metal prices, and potential costs of the mining methods selected. Special attention was given to keeping 50′ of virgin ground between old and proposed new workings. In view of ground conditions, it was elected to mine ore horizons A and B in the South Lode, but only the richer horizon B in the Pond lode. Preproduction estimations of available undiluted ore were :-
South Lode 2,446,031 tons at .94% copper in a block up to 300′ feet high, by 60 feet wide and 2,000 feet long.
The Pond Lode 2,053,879 tons at 1.29% copper in a block 600 feet high, by 30 feet wide by 100 feet long.
Bulk and comparative tests were carried out to authenticate this estimate.
These reserves were all above the 1670 level, but the orebodies extend to greater depths, indicated by diamond drilling  to 2200 level. Beneath 1670 level the present estimated undiluted ore reserves, as yet untapped are 8,332,399 tons at .95%tion, but the poor metal prices have not permitted this to happen, instead The West Avoca mining is a holding operation which has required imagination and tenacity to make it work.
The tunnel and descent
Mine Access and facilities very well documented by Jim in the Mining Journal
Principal access to the West Avoca mine is by 12.5 % incline, driven to an 18'by 12′ cross section and maintained 150 in the orebody footwall. This incline has its portal at 800 level at surface, and is continuous to 1670 level in four legs, totalling 7,00 feet in length. Shaft access via Ballygahan shaft is obsolete today for any purpose other than service hoisting.
The shaft facilities are antiquated and limited in scope.
When introduced in 1955, the idea of incline access to the mine was revolutionary. It still has an ease and flexibility that the standard shaft cannot compete with, and opens all working places to immediate accessibility by personnel and machines.
All entrances to the orebody  South Lode Sub levels haulage tunnels, Pond Lode inclines- branch from the Avoca main incline which is the Artery of West Avoca.
The incline also acts as a downcast tunnel for fresh air to enter mine workings. Foul air is exhausted by fans centred on one old shaft to surface in the centre in the central mine area from 1430 level; and a new Alimak driven ventilation raise to surface from the far West mine on 1670 level. These fans draw up 250,000 cubic feet of fresh air per minute through the mine workings via the main incline and Ballygahan shaft exhausting blasting smoke, dust and fumes associated with the use of diesel equipment, to permit a cool and comfortable working atmosphere.
All mining at Avoca is trackless, and rubber tyred diesel equipment is used exclusively for all haulage and transportation of men and materials. Roadways are surfaced with diorite chippings obtained locally, and are regularly swept and graded using a Komatsu D 50 Bulldozer hired from a local contractor. The very large fan used for extracting fumes may be the one that Barry Mc Keon told me they bought from a coal mine in Scotland.
Pond Lode stoping, and South Lode 1670 level draw points, were cleaned out by Wagner ST 4 Scooptrams with a 5-cubic yard bucket and one ST 2 with a 2-cubic yard bucket for the load and carry operation bringing broken rock or ore on the 1670 level main haulage area to into the central crushing facility a central crushing plant situated in the central South Lode area in the case of South Lode. Any rock or ore greater than 3-foot cube in size at the large Grizzly screen were brought off to the large cavern area called the Graveyard where they could be blasted again into smaller broken rock for the crusher and was crushed to 6 inches and placed on to a 42″conveyor 250 feet long and fed into a 1500-ton bin, which fed into a series of 3 conveyors, that conveyed the crushed ore at a 17-degree grade to the concentrator storage bin  at the surface. The original 100 Hp CAT 944 rear wheel steer with a 2-cubic yard bucket would have been bought early 1970 and had to be dismantled to be placed in a skip and lowered down through a shaft in to the part of the tunnel it was needed and reassembled down there. A Terex R 17 dumper was used to assist the Scopptrams.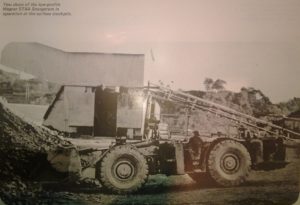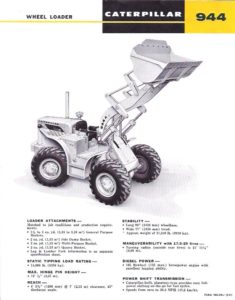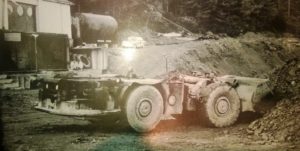 ST4 Scooptram
The Cronebane open pit
The spectacular location of the Cronebane mining area, high above the Avoca valley in East Avoca was, in 1969 inaccessible to West Avoca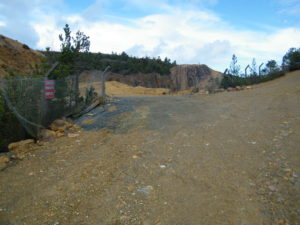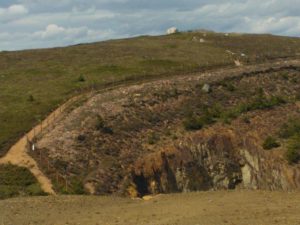 One can view the Motte Stone which is up on the top far left of the entrance to Cronebane.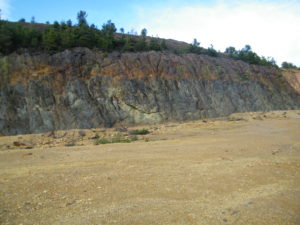 View of the Cronebane open pit from the other end where the 1200-Foot-long Orebody Lay, and a view of one of the scrapers beginning to climb up with its load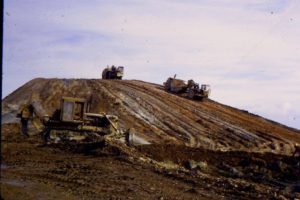 The CAT D 8 H and the two CAT Scrapers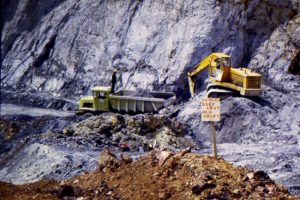 The Richier Oleomat H15 C excavator loading the soft Blue Clayey Ore in to a Terex R 17, Photo courtesy of J Platt about 1971, Tony Levingstone told me he started work in Cronebane December 1971 removing
timbers in the Ore from the old tunnels that were causing problems at the mill. Apiece  from J Platt Page 85 The mining Journal :
Mining Ireland Page 85
Continuing from Cronebane piece on page 82
And all other plant used in the Cronebane mining operation were hired in from a local contractor at production rates. All stripping to date (31/10/72) has been carried out by the scraper/ bulldozer tandem, and amounts to approximately 460/000 cubic yards. The basic pit stripping to the "trough layout" is practically complete.
The mining method is likewise simple. The low point of the pit about halfway between the limits, centred on a 19th Century hanging wall shaft through which all drainage water discharges. This water eventually makes its way into the copper cementation plant at Tigroney. Pit roads grade gently in each direction away from the central shaft in the orebody hanging wall, and are kept at an elevation
10feet lower than the orebody surface. This creates, at its optimum, a ten feet high bench of ore the full length of the pit for mining.
The usual practice is to concentrate mining East or West of the central shaft, mining a bench out in one direction before commencing mining in the other. Road lowering to create fresh ore benches always commences at the west end of the pit.
No blasting is required. The ore is dug neatly and easily with an Oleomat H 15C backhoe, and loaded into a fleet of three Terex R 17 and one Terex R 25 rear dumpers for transportation to the West Avoca concentrator. The ore is manually cleaned of debris and sampled in the pit. A Komatsu 50 bulldozer keeps roadways graded, assists the backhoe in tougher ground conditions, and haul trucks from the pit when wet conditions prevail. Mud is a major hazard at Cronebane. The weathered rocks of the hanging wall pulp at the least fall of rain.
Mining at Cronebane began in late October 1971, and the first year of production.
The first two or three Terex R 17   dumpers had GM Detroit two stroke diesel engines with blower boxes, and one of the fitters told me they used to give a bit of trouble if dirt got into the blower box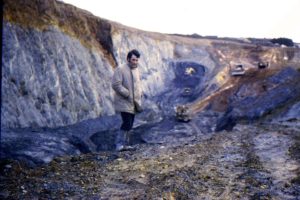 Lorcan Doyle standing alongside the cliff wall with the colour rising up ,  an excavator digging out the blue ore in the background.
3,000 tons of Ore mined every day
Avoca has the lowest return of copper concentrate for every ton of ore mined and consequently this means that production costs are on the high side at Avoca in relation to other mines to insure continuation operation, costs must be minimised by producing all copper possible. At present, approximately 3,000 tons per day, seven days a week are being milled. Ore is crushed to pebble size before being hoisted to the surface by means of a conveyor belt.
Fine ore
The conveyor belt brings the ore from the crusher right up to the concentrator. On entering the concentrator, the ore is put through two more crushers and then stored in a fine ore bin. From there the ore is passed through a rotating steel barrel called the Ball-mill, and water is added and as a result of this grinding ore is able to pass through a very fine mesh. This fineness is required to extract the copper minerals from the rock. The mixture of fine sand and water is then pumped into a tank where chemicals are added and these chemicals make bubbles that have the peculiar ability of attracting the copper minerals and repelling other minerals. The mixture is then passed through flotation cells through which compressed air is blown. These bubbles pick up the copper minerals and they float over the edge of the cells to make copper concentrate. The copper concentrate is put through a similar process again to make for greater purity and it is then dried to 8 per cent moisture on a device called the filter. Steve Young has some excellent photographs on The Avoca mines Community Face Book page along with  a very good explanation of how the process worked
Pyrite
After the copper minerals have been extracted the mixture is pumped to a second set of tanks where different chemicals are added and these chemicals attract pyrite minerals to make pyrite concentrate by the same process as for copper.  This copper concentrate is exported through Roadstone jetty to Spain and Sweden while the pyrite concentrate is sent to the N.E.T. factory.
From the 3,000 tons of ore mined each day at Avoca some 120 tons of copper concentrate is extracted and some 175 of pyrite concentrate.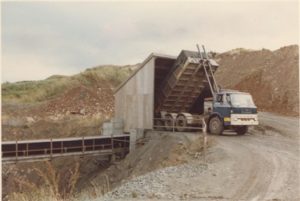 Barry McKeon's photo of our Ford tipping up copper concentrate at Roadstone Arklow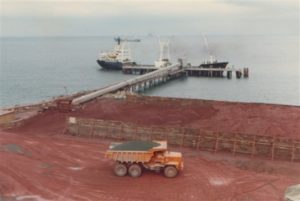 Barry Mc Keon's photo of copper concentrate being loaded on to the boat, Roadstone's 50 ton Mack dumper  alongside the red cinders  storage area from the pyrite roaster plant in NET, waiting for a boat to be shipped also.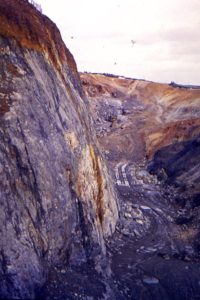 Historic bottle reported in the Wicklow People 20th July 1973
Historic bottle unearthed at mine
During mining operations for copper ore, discarded by earlier miners, two bottles were unearthed at Cronebane belt of Avoca Mines. One bottle carried the inscription Falkner bottling, which seemingly used crossed pistols and an eagle as a trade mark.
Avoca Mines geologist Jim Platt has this historic bottle at his home, and he is seeking information on the Falkner bottling company, where and when it existed. What is already known is this bottle is over 100 years old was unearthed 120 feet down in an old copper working at Cronebane where mining has not taken place since 1850. Despite the passing of years both bottles were found in good condition, one still having portion of its cork in position. Mr Platt would like people with relevant information on the Falkner company or the war like crest to contact him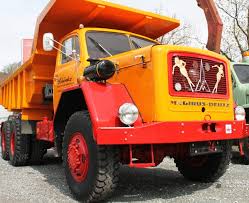 An example of an old type 6X 4 Wheel drive Magirus Deutz dumper  and the old type the six-wheel drive dumper had a grey coloured cab which came in around 1973 which were good at climbing up out of the Cronebane open pit when the single axle Terex was finding it difficult in greasy conditions, Later in '76  Dick bought 3 new Type,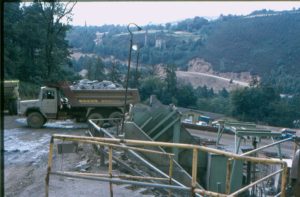 Steve Young has given me his kind permission to use his photo taken in 1976 of the new type 6×6 Magirus Deutz waiting to tip at the apron feeder to the jaw crusher, and I was just amazed when I saw this photograph for the first time, as it evoked a a very vivid memory of myself and Henry Kinsella and Pat Maher drawing to the crusher The Jaw crusher would sometimes block with a large rock  and there was a light  up on in front  and if it were red you did not tip until the men had cleared the crusher and then was switched to green to indicate Ok to Tip the load, but sometimes the blockage could take ten minutes, because the Terex was a single seater Henry would hop into the Deutz for a chat, which I enjoyed too as he was a very pleasant person, Pat Maher was drawing that day also , I was drawing from Tigroney and either Henry or Pat was drawing from the Pond Lode otherwise known as the Falls. Henry 30 years old was was injured Friday 9th December 1977 when a Colfix tar Articulated lorry came in off the main road at Inch during a heavy rain storm and stuck Henry's car and he was taken off to the Richmond hospital, Dublin, and sadly he died  the 14 December 1977, aunt Doreen was driving Mrs. Kenny just to break the news of Henry's death when a lorry which would have been one of a couple of lorries that I had been loading in the Buff Doyle's gravel pit nearby a couple of years earlier happened to hit the passenger side of the car going through the crossroads and Mrs. Kenny was killed outright,  and my aunt was  injured but recovered after being in hospital.
Later on, one  we increased the digger size a little with a Richier H 17 during the build of  the tailings dam and Ford bought a major share in Richier around 1972.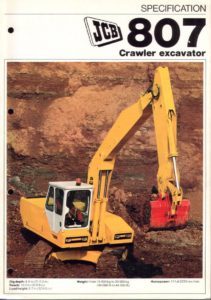 We bought a JCB 807 for Cronebane, and after74 the Oleomat H15C evolved into a FORD H 44 and the H17 into a H45.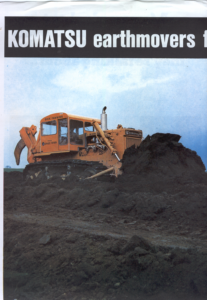 The CAT D8'S had given trouble with the track links breaking and Dick decided to go with two or three Komatsu 155's
These next two Scanned jpeg  of Sam Mc Cormick Cat earth moving product range available in 1973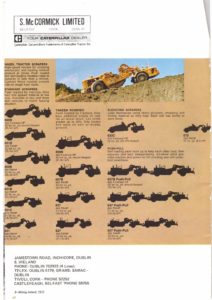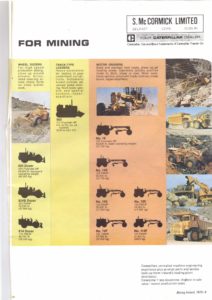 One could see how copper prices were going from reading the Wicklow people from 1972 to 1976, and every effort being made to keep costs down, and the struggle to keep going when prices were low
3 August 1973  but in 1972 the price of copper rose to £428  The Spectre of low copper prices continued to dog the operation between 1969 and 1971, prices for the metal fell from £750to £390 per ton, a body blow where low-grade ore is concerned.
Friday, 27 September, 1974  Grave situation at Avoca  40 laid off and 150 get put on Notice
Friday, 11 October, 1974  Mines Boss spells out hard facts Arklow Chamber of Commerce
Friday, 11 October 1974 Recent sharp drop in copper prices from 1K to 600 pounds per metric ton over the last three months
Friday, 25 October, 1974  Mines gloom deepens
Friday, 25 October, 1974 The Outlook at Avoca mines where 175 men have been laid off, is not at all bright would be only at breakeven at £ 750 to £700
25-Oct-74 instead the price has fallen from £1,395 to £564
30 April 1976 £890 per ton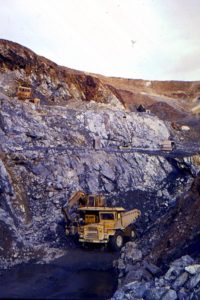 The larger CAT Digger was very efficient at loading rock. after most of the Scraper work was done and the new road into Tara mines was finished the two CAT 769 35 Ton Dumpers  and a CAT 988 Wheel loader were purchased with TARA mines in Navan in mind.  these were too big to to fit under the railway bridge.
These two CAT dumpers were replaced with two new type Terex R 25 fitted with an electromagnetic Retarder System to avoid constantly using the brakes coming down the steep incline, and one or two of the men using them tell me it was fitted somewhere around the drive shaft area and even though it was very hard on the batteries it worked very well and avoided the constant strain on the gearbox holding back. The Terex R17's had a really crude gearbox but I used to enjoy driving them as a young fellow and try to master a smooth gear change after John Turner showed me how to do it using the engine brake and double clutching, and then how to do it without using the clutch by matching the engine speed.  The engine brake or exhaust brake worked well from the point of view holding back coming down the steep incline and not overheating the brakes by constant use, but It tended to be quite noisy and the dumper would tend to hop out of third gear from constantly holding back in that gear on its constant decent fully loaded. One man told me he had a piece of wood cut the correct length to jam between the gear lever and the rear of the cab to try and prevent it hopping out of gear. there could be quite a roar off the Terex engine,  perhaps some of the earlier ones fitted with GM Engines although the old type R 25 with its Cummins engine  also had quite a  roar.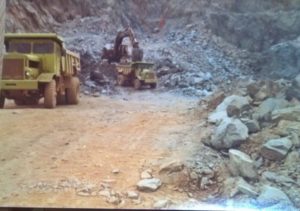 The electro magnetic retarder had one other advantage in reducing the noise level that would have been created by the engine brake.
There was a temporary bridge constructed to span the river just below the white bridge and parallel to it for the dumpers to cross and a roadway running on the inside of the main road as far as the Mines gate entrance so as they could avoid using the White bridge and the road, clearly seen in Roger Browns great 1973 photo.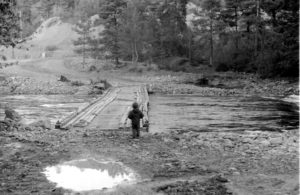 The First big build on the Tailings Dam at Shelton by Avoca Mines organized by the Golder Brawner engineer Mr. Leo Laithti began in 1972, where the team of men agreed to do twelve-hour shifts, seven days a week for eight or nine weeks, to get the first big lift on the Dam completed on time  and there was an outlet point for the water, and the depth level of the water in the Dam could be adjusted by plugging different holes in the concrete outlet. As the years went by the Dam would be raised again, by different engineers. Here is a photo of Steve Youngs, probably three or four years later.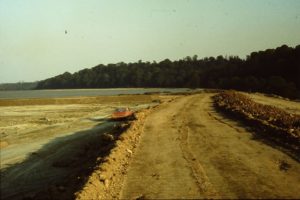 I could remember the CAT 950 had been bought new for the Tailings Dam and I could remember Hughie loading mine tailings into the dumpers and I was a little puzzled thinking about it in later times, but after seeing  a photo from the  Photographic Collection of Ross Corey 1956-62 donated by his daughter Kathleen to the Wicklow Heritage, I could see and recognize that St Patrick's copper mine had run a tailings pipe out as far as Shelton at that stage, when I viewed the photo of the woman standing on a Dam and  looking down on what appears to be an outlet pipe for the water, and the wood to her right in the photo
During August 1970 Robert Kilgour told a reporter in the Herald The waste from the mill, known as tailings will be pumped four miles to the 90-acre site at Shelton, used during the previous mining operations when 3.5 million tons were deposited. The company is negotiating with the forestry division for an additional eight acres. They managed to acquire some of the land from the forestry for 1972, which proved very useful for building part of the Dam . Stephen young has some really good shots of the Dam around 1979 on the Avoca Mines Community Page. I knew we had built our workshop on top of an old tailings dam site, up near the end of "The Red Road" which may have been just a temporary one from the St Patrick's Mine.This next photo of the Tailings pond with rough grass growing on it in June 2016.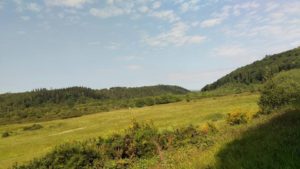 1977
Avoca struggles against a combination of problems
A piece from the Engineering and Mining Journal October 1977
"The Avoca mine, 40 miles south of Dublin, is located in one of Ireland's great tourist attractions The beautiful Vale of Avoca noted in the Irish poet Moore's Meeting of the Waters. The mine is on the left bank of the Avoca River. The government has actively supported the operation, management and workers have kept costs down as much as possible, and Avoca has everything going for it- except ore grade. The mine is currently producing from two underground lodes, The Pond and the South, and from an open pit extension of the Pond Ore Mill heads average 0.64% copper and 7.16% sulphur, and concentrator recovery of the two values is 87%and 70%, respectively. The Pyrite and copper concentrates are trucked 7 miles to the port of Arklow. The Pyrite concentrates, containing 48.5% sulphur, are received by the Governments Nitrigin Eireann Teoranta. The copper concentrates. Containing 20% Cu are shipped to Rio Tinto Patino SA in Spain and to Philipp Brothers AG in Sweden. Avoca mines Canada Ltd., the parent company, has not made a profit on the operations since they started up in November 1970- Although not for want of trying. Judged by most operations, Avoca Ireland has performed well in the face of inflation; a dull- if not deadly market, and lower than expected grades. The lack of profits has negatively affected search for better ore- which may be but a will O'-the-wisp. The possibility of a takeover by a new owner may improve Avoca's prospects by the infusion of more money." (See box.)
Avoca mine fact sheet
Owned by: Avoca mines Ireland, a wholly owned subsidiary of Avoca mines Canada Ltd. The major holder of the Canadian firm is Discovery mines Ltd. (53.5%).
Production: 1976 mill throughput -1,855 tons per calendar day; copper production-7.2 million Lb in concentrates; pyriteproduction-63,521 tons. Mining rate- 2,000tpd of ore from two underground lodes and one open pit; ore grade-0.63% to .75% Cu.
Reserves, proven and probable: 3.2 million tons grading 0.8% Cu Ore amenable to open pit operations.
Start up by present owners: November 1970, at initial cost of $4.5 million and $2.5 million debt.
Mining method: Blast hole stoping, sublevel caving, and open pit.
Mineralization; Massive cupriferous pyrite, massive copper-lead Zinc sulphides, disseminated chalcopyrite.
Major mining equipment,
Drills two three boom Jarvis Clark MJM 21S with ES 300 Tampella drills;
Holman 90s ; two Twin Long Toms- one tractor mounted, one converted ST2A; ; BBC 120F COPCO/DH 1123 Gardner-Denvers mounted on tracked rigs; Tamrock L 500 on Zoomtrack rig.
Loading and hauling: five Wagner ST 4As, one ST 8, one Terex R 17.
From Engineering and mining journal October 1977. Barry Mc Keon piece from Engineering & mining Oct 77
Ballymurtagh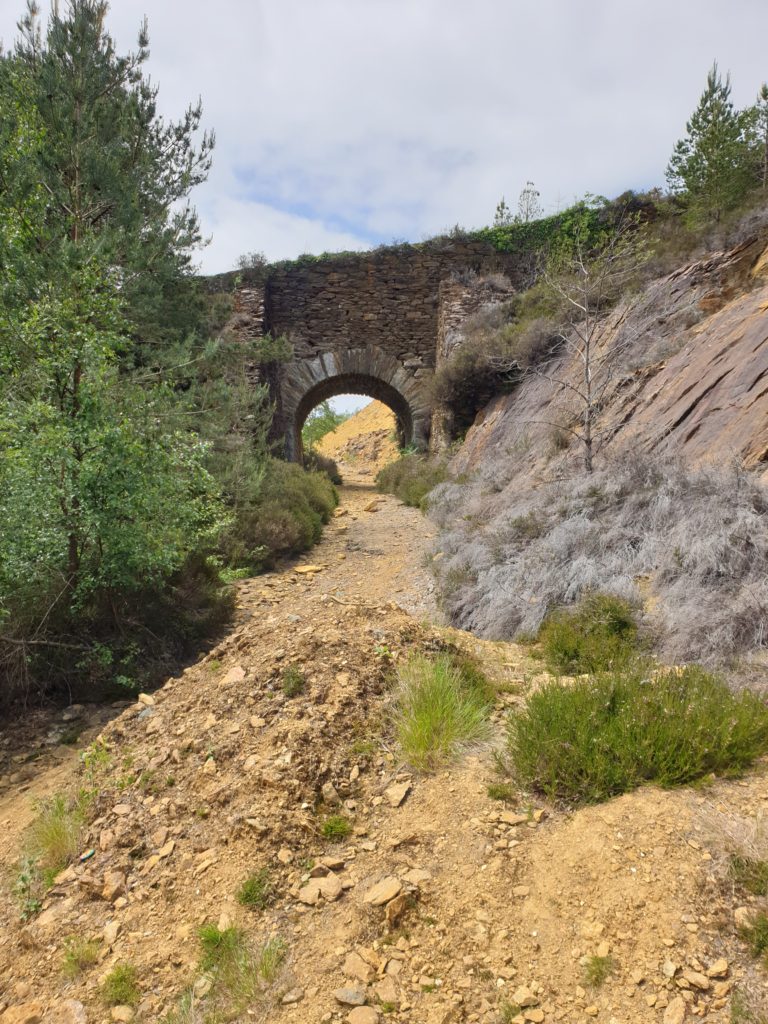 Some of the rocks